There are different home based remedies available for whitening unhealthy looking teeth! Among these trusted home based solution is whitening of teeth with lemon juice and salt. In this article about How To Whiten Teeth With Lemon Juice And Salt we explore this inexpensive and working remedy in detail please stay tuned!
There are many reasons of having staining teeth such as unhealthy lifestyle like eating junk food, smoking and drinking. These stubborn stains are showing too much resistance to conventional methods of brushing or using whitening gels to remove them.
The only way left to remove these hard to go stains with help of teeth bleach but these chemicals are harmful to your teeth as well as gums. So there is a need for a solution to solve this problem but also safe for your teeth and gums as well.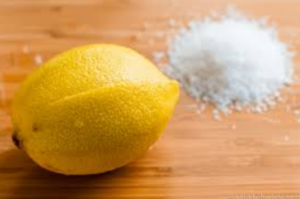 In this article we will show a simple homed remedy for getting white and shining teeth. You just need to apply this treatment for 5 minutes twice a week for getting your shinning teeth back!
For this natural remedy you just need a piece of lemon and salt.
As we know lemon is one the great source of vitamin C. Lemon comes with natural properties of lightening the teeth and act as a natural bleaching agent.
Further lemon also possesses substantial amount of citric acid which acts as antibacterial agent and works against bacteria in your mouth preventing oral diseases and keeps your teeth free of cavity.
Another ingredient in this teeth whitening formula is Salt. Salt comes with natural properties for strengthening your gums and good for your mouth overall hygiene.
How to Use this Lemon and Salt Formula for Whitening Your Teeth;
Ingredients;
        

1 teaspoon of salt

      

Half piece of lemon
Instructions
      

First take one teaspoon of salt in a small bowl

        

Then squeeze half piece of lemon into the bowl; remove the seeds from the lemon

      

Mix these two ingredients and make a paste

      

You can either use this paste for whitening your teeth with help of toothbrush or finger ( Note: not over brushed your teeth)

      

Don't rinse your mouth quickly, allow this paste to stay in your mouth for 3 to 5 minutes

       

Then rinse your mouth with normal tap water

      

For best results repeat this lemon and salt treatment 3 to 4 times a week